Just thought I would put together a quick post regarding the MCT accreditation and what this means for someone looking to obtain this.
I was fortunate to have met the application criteria and have been privileged to receive this award this week.
Full details of the award can be found here: Become a Microsoft Certified Trainer | Microsoft Docs
The long and short of it is that currently Microsoft are waiving the application fee which is usually around £600 per year. This waiver is in place having recently been extended until June 2021.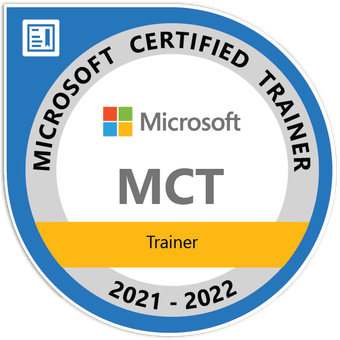 Benefits
There are a number of benefits related to being an MCT, including some awesome Tools and Resources, such as:
MCT Software and Services via my.visualstudio.com
Azure Pass Program
Microsoft Labs
Microsoft Official Courseware material Access
Learning Download Center
MCT Store wo pick up your MCT merch!
Exam Discounts
Practice Exam Discounts
Book Discounts
MCT Central for community support!
Full details of the benefits can be found here: MCT Benefits
Requirements
Possess a current Microsoft Certification or qualification eligible for the MCT program. (See below for list of qualifying certifications)
Microsoft Certified: Dynamics 365 Supply Chain Management, Manufacturing Functional Consultant Associate
Microsoft Certified: Power Apps + Dynamics 365 Developer Associate (retired December 31, 2020)
Microsoft Certified Solutions Associate (MCSA): BI Reporting (Retired January 31, 2021), Microsoft Dynamics 365 for Operations (Retired January 31, 2021; see here for the requirements associated with each Microsoft Dynamics qualification and certification), SQL 2016 BI Development (Retired January 31, 2021), SQL 2016 Database Administration (Retired January 31, 2021), SQL 2016 Database Development (Retired January 31, 2021), SQL Server 2012/2014 (Retired January 31, 2021), Universal Windows Platform (Retired January 31, 2021), Web Applications (Retired January 31, 2021), Windows Server 2012 (Retired January 31, 2021), or Windows Server 2016 (Retired January 31, 2021)
Microsoft Certified Solutions Expert (MCSE): Business Applications (Retired January 31, 2021), Data Management and Analytics (Retired January 31, 2021), Productivity (Retired January 31, 2021), or Core Infrastructure (Retired January 31, 2021)
Microsoft Certified Solutions Developer (MCSD): App Builder (Retired January 31, 2021)
Microsoft Office Specialist (MOS): Master 2016, Master 2013, Expert Excel 2016, Expert Excel 2013, Expert Word 2016, Expert Word 2013, Word Associate (Word and Word 2019), Excel Associate (Excel and Excel 2019), PowerPoint Associate (PowerPoint and PowerPoint 2019), Outlook Associate (Outlook and Outlook 2019), Microsoft Office Specialist: Associate (Office 365 and Office 2019), Word Expert (Word and Word 2019), Excel Expert (Excel and Excel 2019), Access Expert (Access and Access 2019) or Microsoft Office Specialist: Expert (Office 365 and Office 2019)
Demonstrate instructional skills verified by one of the following:
Instructional Skills Certification

CompTIA CTT+
Essential Educate Trainer (internal Microsoft – certification)
Fourth Dimension Technologies, Inc.
Friesen Kaye and Associates
IAMCT Approved Technical Trainer (IAMCT ATT)
IPM (Institut für Personalberatung und Managemententwicklung)
Learning and Performance Institute Trainer Performance Monitoring and Assessment (TPMA)
Learning Tree Train the Trainer Program
Marcom Deli
Microsoft Certified Trainer Instructional Skills Certification (MCT-ISC)
Microsoft Customer Service & Support (CSS) Trainer Certification
Microsoft Core Training Skills
New Horizons Instructional Skills Certification
PrepMasters USA
Modern Classroom Certified Trainer (MCCT®) [For college staff or professors only]
Certified Virtual Educator [For college staff or professors only]
OR

Provide reference supporting at least one year of instructional experience
Enrol
Enrol with the MCT Enrolment tool: Microsoft Certified Professional – MCT enrollment
Program Fees
Like I mentioned, Microsoft are waiving any fees until June 2021 but you can check the fees for enrolment in your country by visiting this tool: MCT and MCT Alumni program fees calculator | Microsoft Certified Trainer Certification